​Just a third of UK employees spend at least four days a week in the office, research finds
Britons work from home more than any other comparable economy – and it reduces the chances of a pay rise, research suggests.
Just 34pc of employees in Britain are in the office four or more days a week, less time than workers in 16 other comparable developed countries, a report by workplace creation experts Unispace found.
Employees who work from home are less likely to receive pay rises, bonuses and promotions, the report said, with 75pc of employers saying the salary and career boosts were less likely to be handed to home workers than those who spend more time in the office.
The company surveyed 9,500 employees and 6,650 business leaders from 17 countries worldwide.
It chimed with research from the Centre for Economic Policy Research, a think tank, which, in separate research, found British workers spent an average of two days a week working from home – more than any other country in Europe.
However, its study found this was exceeded by workers in Japan, Singapore, and Canada.
Another report by analytics company Coresignal also found the UK had the highest share of remote job listings anywhere in Europe.
The company analysed more than 40 million job postings across Europe and North America, and found that in 2021 Britain accounted for almost a third (29pc) of all remote job postings.
Unispace's latest study found that despite low attendance levels, British workers wanted to increase their time working from home. Only a fifth of those surveyed were happy to spend four or more days a week in the office.
British employees, the report found, were less aware that working from home could negatively impact their careers, with just 59pc believing this to be the case.
Businesses in the UK have also been slow to expand office space, the report found. Only 58pc were found to have expanded their office footprint in the last two years – well below the global average of 75pc.
Roughly half (56pc) of offices in Britain operate a "hot desk" system, Unispace said, above the global average of 48pc.
The company added that 76pc of British workers would be more inclined to return to the office if they had their own desk.
It follows a warning from Jeremy Hunt that businesses could face a creativity crisis unless workers were hauled back into the office.
Speaking at the annual conference of the British Chambers of Commerce in London, the Chancellor said: "There is nothing like sitting around the table, seeing people face to face, developing team spirit.
"And I worry about the loss of creativity when people are permanently working from home and not having those water cooler moments where they bounce ideas off each other.
"Not every great business idea happens in the structured form of a meeting. So I think that's why, increasingly, businesses are saying they want people back."
Major City firms including BlackRock and JP Morgan are also ordering staff back to the office. In a memo, executives at Blackrock said: "Career development happens in teaching moments between team members, and it is accelerated during market-moving moments, when we step up and get into the mix. All of this requires us to be together in the office." In April, JP Morgan warned investment bankers they would be punished for failing to work in the office as it ordered its senior staff back to their desks five days a week.
Figures published by the Chartered Institute of Personnel and Development show young people were making their way back into the office more than any other age group.
Those aged 30-54 were the most likely age group to continue working from home, surpassing those aged 55-70.
​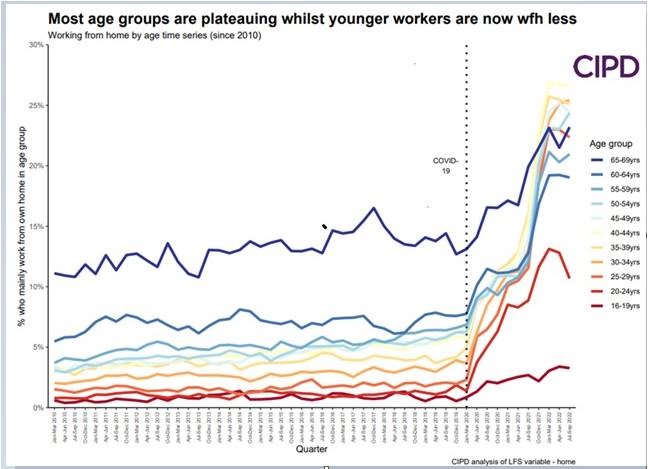 Lawrence Mohiuddine, of Unispace, said experienced UK employees were "in the driver's seat", adding that it was "easier than ever before" for staff to demand flexible working from employers.
He said: "Businesses need to find a way to strike the right balance to encourage people to form new habits and head into the office but, equally, employees need to be given a compelling reason to do so."