Our Interim Consultancy Augmentation gives management consultancies the skilled, niche talent they need to meet client demand and deliver critical projects
Our Consultancy Augmentation offering enables Management Consultancies to respond quickly to new opportunities and compete with the small and bigger players in the ever-growing and in-demand consulting market.
If you've won an engagement but need additional people on your team to deliver it, we can source the interim talent you require and place them as consultants within your business for the duration of the project.
Our interim managers can augment your consultant teams across compliance, risk, technology and finance projects, including transformation.
Keep your headcount lean, cut your costs and increase your revenue with our flexible talent delivery models.
Collaborate with us to compete with them.
​
Flexible Talent Delivery Models to Meet Your Management Consultancy Needs
​
Augment Consultancy Teams:Our on-demand interim services let you scale up or down based on engagement demands

Manage Utilisation Rates:Keep headcount lean, reduce people on the bench and increase utilisation rates for your core consultants

Enhance Profitability:With your utilisation rates at an optimal level and contractors only getting paid for the time they are on assignment, you can cut your costs and increase your revenue

Access Niche Talent:Diversify your talent bench by borrowing from our team of expert contractors with niche skill sets as and when you need them

Increase Client Retention:Being agile to your client's demand for talent will enable you to meet their expectations and respond to additional opportunities
​
How it Works
Lean on our expert resourcing skills and access our well-established talent network to deliver the first-class consultancy your client expects.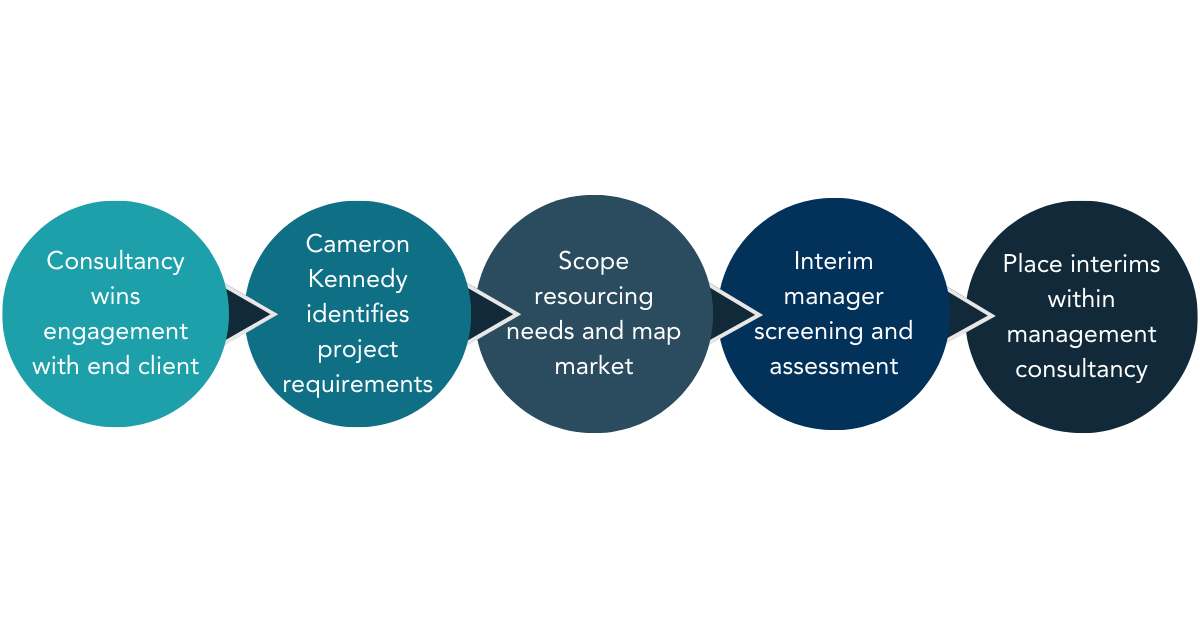 Augmenting Your Consultancy Delivery with Niche Talent
​
Risk
Operational risk consultants

Market risk consultants

Credit risk consultants

Risk analysts

Risk modellers
​
Regulatory
FCA/PRA reporting specialists

Regulatory accountants

International regulatory reporting

Regulatory analysts

Liquidity specialists
​
Compliance
Compliance managers/directors/MLROs

CASS specialists

Client onboarding specialists

Financial crime specialists

AML analysts

KYC/CDD/TCF specialists

Systems specialists
​
Accounting
Interim FDs/CFOs

Financial/management accountants

IFRS specialists

Fund accountants/nav specialists

Product control specialists

Systems accountants

NQ accountants

Finance administrators
​
Treasury
Treasury managers

Treasury analysts

Treasury funding specialists

Treasury payments specialists
​
Business Analysis/PMO
Business analysts

Project managers

Program managers

PMO/heads of
​
Why Cameron Kennedy
A Cameron Kennedy Consultancy Augmentation engagement provides access to an on-demand and always-ready talent pool across compliance, risk, technology and finance projects/transformation.. When combined with your permanent consulting staff, you get a flexible resourcing strategy that scales up or down based on your current engagements and book of business.
What's more, you get access to the strong reputation and network of talent that Cameron Kennedy has cultivated over the past 25 years. Not only do we have access to niche talent networks you won't find anywhere else, you can relax in the knowledge that our workforce has been fully vetted and interviewed.
We provide clear expectations, compliant service and most importantly, a fully tailored and consultative approach to your most challenging talent needs. In addition, you will benefit from:
​
Contractor payroll management

Online time approval facility

Consolidated invoicing

Access to management information

No hidden costs – all workforce expenses accounted for